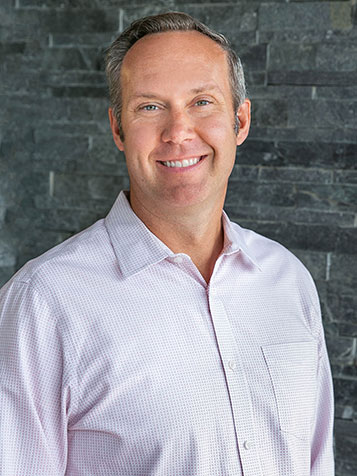 A native of Southern California, Dr. Brian Asbury loves the diversity and culture of the San Diego area. He lives in Del Cerro with his wife Jacy, and four children: Libby, Reeve, Briggs, and Stratton.
A board certified orthodontist, Dr. Asbury loves orthodontics and watching the dramatic change that can occur in a patient's life following treatment. One of his favorite questions is, "What would you do if this were your son or daughter?" Providing the best possible treatment experience for each of his patients has always been his goal.
Dr. Asbury was trained in the latest evidence-based techniques. He employs whatever treatment modality will ensure the best possible result, including 3D X-rays (with less radiation that standard 2D X-rays), digital scanning, light, continuous forces, clear braces, clear retainers, Invisalign®, and Damon™ Smile self-ligating braces.
Dr. Asbury graduated magna cum laude from the University of California, Los Angeles with his Doctorate of Dental Surgery. He received many awards for his academic and practical accomplishments, and was inducted into multiple honor societies, including the dental honor society Omicron Kappa Upsilon.
After finishing dental school, Dr. Asbury went on to complete an additional three years of advanced postdoctoral studies in orthodontics and dentofacial orthopedics at Harvard University. While at Harvard, he also received a Master of Medical Science for his work in osteoarthritis. His innovative research developed a novel therapeutic agent to treat osteoarthritis.
Since multidisciplinary treatment with various specialists can often ensure the best possible treatment for a patient, Dr. Asbury spent two years working as a general dentist. He also received advanced training at Boston Children's Hospital and Massachusetts General Hospital, where he treated various syndromes, cleft lip/palate, and craniofacial surgical patients.
He volunteers regularly at a multidisciplinary clinic in Mexico, where he provides free service for children with cleft palates and other craniofacial abnormalities. He is proud to have volunteered there for over ten years now. He also helps weekly with services at his church, The Church of Jesus Christ of Latter-Day Saints.
Dr. Asbury is proud to have served his country. He was honorably discharged from the United States Army after attending West Point.
Dr. Asbury is a member of the American Association of Orthodontics and is board certified by the American Board of Orthodontics.
Education:
West Point (mathematics/nuclear engineering)
Brigham Young University (biology)
UCLA (dentistry)
Harvard (orthodontics and dentofacial orthopedics)
Harvard (medical sciences)
Massachusetts Institute of Technology--MIT (health sciences and technology)
Diplomate, American Board of Orthodontics